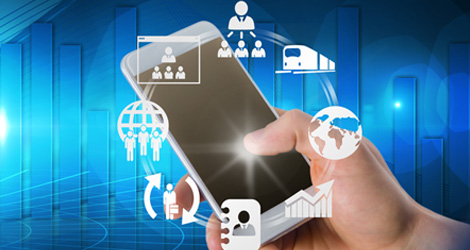 Feature-Rich, Custom & Compelling Mobile Apps For Android & iOS
Mobile App development is the perfect way to reach millions of people in no time. Android and Apple have given great platforms for the apps to develop. Numerous companies are getting their mobile app prepared so that they can get their customers updated to the latest products and services.
This definitely creates more sales! A successful app has the power to attract people and get them used to it, thus giving enough options to make a profit out of it.
Rank-Higher is a leading mobile app development company in Vaughan and our team of professionals are very passionate when it comes to app development.
Our Mobile Application Solutions
iOS App Development
Apple store has seen an incredible growth since its launch. The number of downloads in the apple store is just increasing day by day. This gives a great opportunity to all those who want their ideas or business needs to take the shape of an iOS App.
Rank-Higher has a team of skilled professionals who understand your need. We make apps for various genres like gaming, audio-video, travel, eCommerce, GPS enable, retail and much more.
We not only make apps but also give services for software maintenance and support. If you want any up gradations to your existing Apple app, look no further than Rank-Higher in Vaughan. We make intuitive designs for your apps, making them adaptable to any Apple device like iPhone, iPad etc.
Android App Development
Android is the largest used operating system in the world for smartphones. More the number of people, more the chances of your app getting maximum coverage. Our team of professionals refine your idea in accordance to your goals and needs.
Thus, giving your app an easy navigation process. We make customized apps for you so that your goals and vision are very much incorporated in it.
We provide secure and multimedia mobile app solutions to you and also prepare android web based applications. We design, upgrade, analyze, develop and do all what it takes to make a successful android app.
Apps are the Next Marketing Big Thing!
Creating an app is a great way to get your vision transform into reality, meeting all your business needs and goals. It will not only make your business or idea into a brand but will get in profits too.