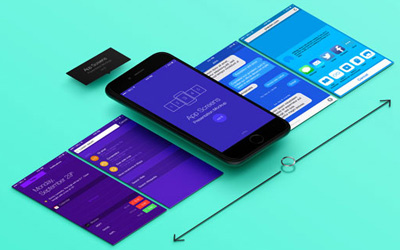 With cutthroat competition among the companies to sell their products, new and advanced ways are adopted regularly to do it. In the early times, promotion and marketing throughout the country was a normal thing to see but not anymore.
Now you don't have to physically reach out to the customers but reach out technically! Yes, we are talking about smartphones and tablets, which have become the biggest marketing and promotion platforms.
Everyone has such devices now and they spend a lot of time on them on daily basis! This makes it essential to have mobile apps for a company, which would help them reach their customers directly in no time, thus increasing sales!
5 Ways Through Which Mobile Apps Boost Sales:-
Hassle-Free Ordering:

With mobile apps, it becomes very easy to place an order online. One has to just open the company's app and scroll through the various products and services, select the item and place an order! How simple was that? It saves a lot of time and energy of the customers. For eg. Placing a food order at a restaurant, when you don't want to go outside, becomes so easy!

Quality Comparisons:

When you have a mobile app, you can make users realize the quality of your product. Comparing it with the similar products and services of other companies, one can highlight their own features against theirs. This will make your customers know what they are going to benefit from you and increase the chances of future sales too!

Brand Building:

When a customer is having your app on his mobile, chances are that he/she will come across it on daily basis. This will always make them prone to opening and using it. This will not only make your brand grow but also lead to a purchase. The more the services and benefits you keep providing to the customers, the more they come to know you, thus building your brand.

Notifications:

If your company has launched a new product or is looking to give some discounts etc, how will your customer get to know? The answer is simple, through apps. These notifications work wonders, especially with the discounted coupons and codes. This evokes great interest in the minds of users, which increases the chance of a sale! Also, this makes them see a lot of other products while navigating, doubling the chances of a sale.

Improve Customer Experience:

When you are giving so much ease to your customers in placing their orders, it will make them satisfied for sure. Anything that makes you feel comfortable is likely to get repeated. When you will offer discounts, rewards, and other great options to shop with, they will feel like shopping every time with you. A happy customer will make you happy too by increasing your sales!
Need a Mobile App For Your Business?
If you want to reap more profits through customer satisfaction, get a mobile app immediately. Rank-Higher team of passionate developers has successfully developed apps and made them work for our client's profits.