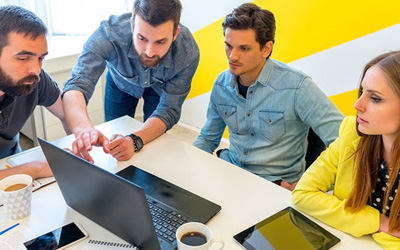 The visual direction of content is a topic that is discussed by very fewer people. But this is one of the most important aspects of high converting web design. Aesthetics play an important role, but it is all about the overall design of the site. The design or look of the website can be affected by typography, whitespace, and symmetry. Every site owner wants guests to remain on the site and keep scrolling by capturing their attention. To compel the visitor to stay on the page you need to improve layouts and visual content flow on the website.
Focus on the style or design:

Every single page of a site creates upon the overall layout. It is crucial that everything you have posted on the page should naturally guide your visitor until he

or she reaches the bottom of the page. This is the main reason why the relationship between all parts of the content matter to design. Your goal should be clear that encouraging people to visit your site.

Type of design matters:

Typography that your design will affect content directly on your website. This happens with the design styles of page elements such as quotes, headers, paragraphs, bulleted lists, and special layout elements. Visuals can also affect the layout of different pages. So, it is better to draw content with natural advancement. Write high-quality content that compels people to read each paragraph.

There are a few things that you should consider for high-quality content, including paragraph margins, font size, color contrast, line height, font family, page section relationship, letter spacing, and upper and lower case.

Useful content:

There are several websites available on the internet. Every website has its own method for guiding visitors through the site. You can take the example to understand it, a home page of a site guide a visitor with testimonials, brief summary of services, small information about the company and others.

If you really want more visitors, make sure you organized the content into paragraphs, blocks, and points. Add information about your services and products. Great images and catchy headlines are one of the best ways to get people on the site.

Trust your eyes:

Learning about design is a very important aspect of your website. Make sure you see every single thing properly to identify the visual hierarchy. It is advisable that make a list of your favorite websites and note down the elements that you like. Keep your eyes open and study website layouts you like and recreating them.
Hope, these tips will help you to improve your layouts and visual content flow. You can study the various examples of page layouts on the Internet to develop your skills. If you want to know more about visual content direction, contact us at Rank-Higher in Vaughan.