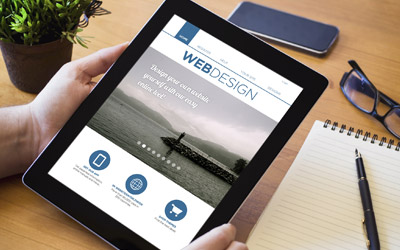 With 2018 knocking right at your door, you might have decided what you'll do and achieve this year. If you are a website designer or a web expert, then you must try to adapt yourself to the evolving website needs. This year is going to be more colorful, i.e. impressive animations and unique graphics will rule the web. Some of the distinct and innovative website design trends will emerge as the winners in the race.
Here is a look at some of the expected digital trends which will be appreciated in 2018:
Brilliant Color:

Brilliant or bright color has gained a great importance, especially if you are focused to create an engaging WordPress website. It is one of those design trends that will stick around for many years to come. Including bright color not only enhances the website looks but makes them appear rejuvenating. Bold colors play an equally important role in both flat and material designs.

Asymmetrical Grid:

The era of perfect symmetrical design is on the verge of extinction now, as they have been overridden by the asymmetrical grids. Expert web designers are now splitting the visual elements on the screen without a proper symmetry to make them appear trendy. To make sure your asymmetrical design doesn't look ugly, prefer a distinct balance of space and text elements to keep everything organized.

Sticky Element:

Did you ever saw those tiny ads at the middle or bottom of the website? Yes, it's the new design trend. Instead of keeping the pop-ups, ads and notifications at the header or upper end of the website, they have now found a new location, i.e. at the bottom or in the footer. It's not just ads but also the location maps, chat boxes, pop-ups, notifications and navigational elements which are not being included at the bottom of a website.

Innovative Animation:

Animations have always been the part of a website, especially the ones that want to target the younger generation. Even small and simple animations can delight the visitors, thereby compelling them to stay on the site for a longer time. They actually lead the user to actively participate without compromising with the website looks. Pick and stick to just one animation that appears to be realistic and enhances active user engagement.

Geometrical Shapes:

In contrast to sharper geometrical shapes, the shapes ones with fluid like looks are going to gain immense popularity in 2018. Polygons, two-dimensional shapes, geometrical design and smoother lines are a versatile trend that will allow your website to exhibit 3D characteristics. You can also include animated or moving polygons to make the shapes included appear more trendy, smoother and impressive.

Split Designs:

Gone are the times when split screen designs in desktop websites and mobile apps looked awkward. The same designs with a perfect split have now gained popularity among the web developers. These designs provide a remarkable experience for the desktop screen and mobile devices since the split content is stacked in symmetry and is displayed side-by-side. Moreover, a split screen with an additional layer of text on the top provides more depth to the split effect.

White Space:

White space, it is again in the trend this year and will remain for much more to come. Designers love to include plenty of white space on the website. By including a lot of design elements with no space can make a website look cluttered. The only challenge that needs to be overcome is using the white space in a perfect manner with less minimalism to make the oversized element breathe a plenty of air with ease.
These are some of the popular web design trends that are going to gain success and lead in 2018. If you are looking to get a new WordPress website developed based on the latest designing trends, feel free to consult our talented web designers at Rank-Higher in Vaughan.